The Roanoke Times: Posted on Mar 10, 2014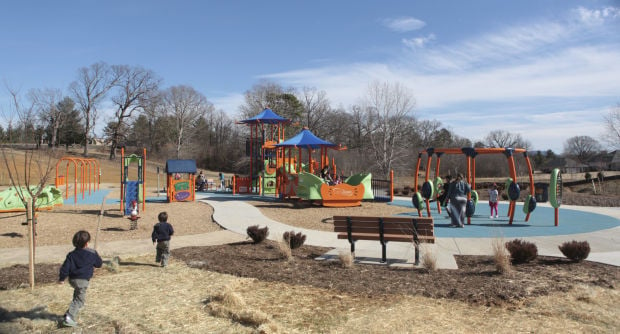 ERICA YOON | The Roanoke Times
Children and their parents enjoy the new playground on what used to be the 12th fairway of the Countryside Golf Course. The $250,00 facility is the most obvious part of a $1.5 million project to add recreational elements to the property.
Roanoke's newest playground is unlike any other in the city.
The sprawling, 6,000-square-foot facility just below what used to be the 12th green on the now defunct Countryside Golf Course has all the loudly colored slides and ladders you expect from a modern take on the jungle gym, but part of it is wheelchair accessible.  Rather than being surrounded by a sea of wood chips, it has a bright blue, spongy rubber floor.
Another area is a life-size outdoor electronic game.   And it's all surrounded by a walking trail with drums, gongs and xylophones to clang along the way.
"This is a 21st-century park," said Reva Spencer.
"It's awesome," echoed her son, Stephen, who took a break from climbing with Spencer's three grandchildren.
The $250,000 facility is the most obvious part of a $1.5 million project to add recreational elements to the city-owned former golf course, which also includes an extension of the Lick Run Greenway, a fitness trail and a picnic shelter.
"We wanted to create something where every child regardless of ability could play with each other," said Donnie Underwood, parks and greenways planner with Roanoke's Parks and Recreation Department.
The musical trail adds a multisensory experience with instruments "for kids just to whack the daylights out of," Underwood said.
Monday afternoon, with the sun out and the temperature sneaking up on 70 degrees, kids went from instrument to instrument along the music trail, banging away.
Jonathan Webb's three kids spent their time pinging between flashing lights playing the NEOS electronic game. It challenges players to spot flashing lights and touch them before they go off.
"It's kind of exercise," said Nalani Webb, 7, still winded after playing with her twin sister Nadiya and her brother Jajuan, 11.
"It's pretty fun," Nalani said. Really? It looked more than pretty fun.
"It's really fun," she said after reconsidering.
"It gets them tired, too," said her father.
"I wish they had this when I was a kid," he said. "I feel like when it gets really warm, it's going to be packed."
GETTING THERE:
The new playground may be reached off either Peters Creek Road or Cove Road in northwest Roanoke. From Peters Creek, turn onto Lewiston Street just past Rick Woodson Honda and before the Interstate 581 interchange. From Cove Road, turn onto Ranch Road. The playground is at the intersection of Lewiston and Ranch.
Share This