NORTH POLE — A unique new play area, combining music-making and outdoor play, has been installed at the Terry Miller Park this summer.
The drums, tubular bells and xylophones sit in the middle of a grassy area near the playground. 
The city purchased the equipment from a Colorado-based company and paid for it with a $25,000 grant from a private foundation. 
Several other communities in Alaska have musical parks, including Seward, Wasilla, Palmer and Juneau, according to Free Notes Harmony Park, the manufacturer of the play equipment. 
It's the first park of its kind to be installed in the Fairbanks North Star Borough.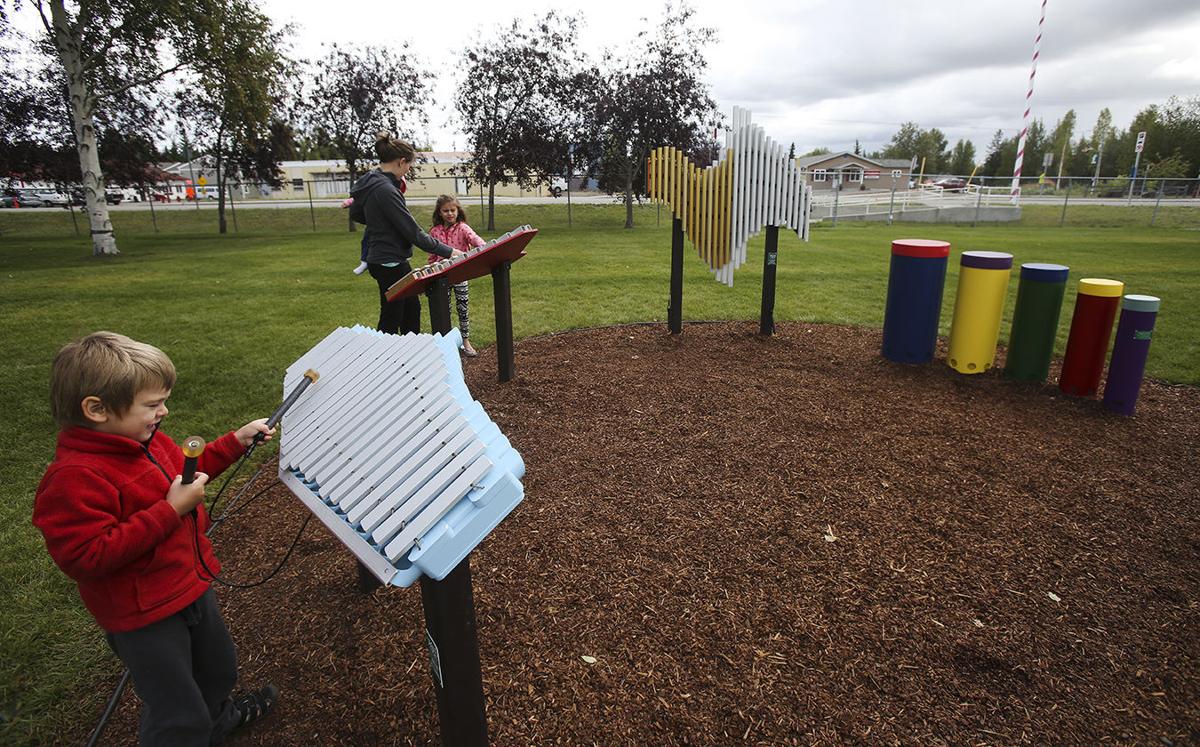 "It kind of fits in with the concept we have for North Pole, making it a family-friendly community," said Bill Butler, director of city services. 
The city mayor heard about musical parks at a conference and asked Bulter to look into it. 
Butler said it was clear early-on that the new equipment would be difficult to fund from city revenues.
Leaders turned to the Helen E. Snedden Foundation, which had helped previously with funding for an exercise trail.
Snedden owned and operated the Fairbanks Daily News-Miner with her husband, Charles Willis Snedden, for 39 years. She died in 2012, leaving about $8 million to the foundation. 
Virginia Farmier, executive director of the foundation, said the musical park is one of multiple projects in the works. Another project being supported by the foundation involves a new pavilion that is being added to the Snedden Memorial Park on Slater Drive in Fairbanks.
"She wanted to share," Farmier said. "In her lifetime, she helped with youth projects. She wanted to be able to have more things in the community for people to enjoy."
Ted Schmitt, logistics coordinator with Free Notes Harmony Park, said the first musical playground equipment was installed in Utah 20 years ago, and it's still going strong.
"They have held up very well," he said.
There are 675 musical parks in the United States and 829 worldwide, Schmitt said.
Contact staff writer Amanda Bohman at 459-7587.
Here is a video of the Manta Ray, from Breckenridge Co. ski area.
Share This