Notable Public Installations:
Festival International de 

Jazz de Montréal
One of our newest installations is located in Montreal, Quebec, Canada.  Home of The Festival International de Jazz de Montréal (English: Montreal International Jazz Festival).  Ranked as the world's largest jazz festival by Guinness World Records, the Festival International de Jazz de Montréal has been synonymous with a passion for music for over three decades. Every year, North America's French-speaking metropolis welcomes global music fans to 10 days of jazz-centric celebration, where fans of all types of jazz-related music rub shoulders with aficionados of the genre in its purest form.
Riverwalk in New Orleans

The Outlet Collection at Riverwalk in New Orleans, LA wanted to enhance their visitor's experience and give them something unique to enjoy and talk about so they added Freenotes Harmony Park Instruments to their property!
Imagine U Interactive Children's Museum
A dream, 10 years of planning, a creative imagination by the community comes to reality. Here is a short video. To learn more about Imagine U Children's Museum.  
New Orleans City Park

City Park has a special place in the hearts of generations of New Orleanians and is a must visit for visitors to the city.
North Pole Music Park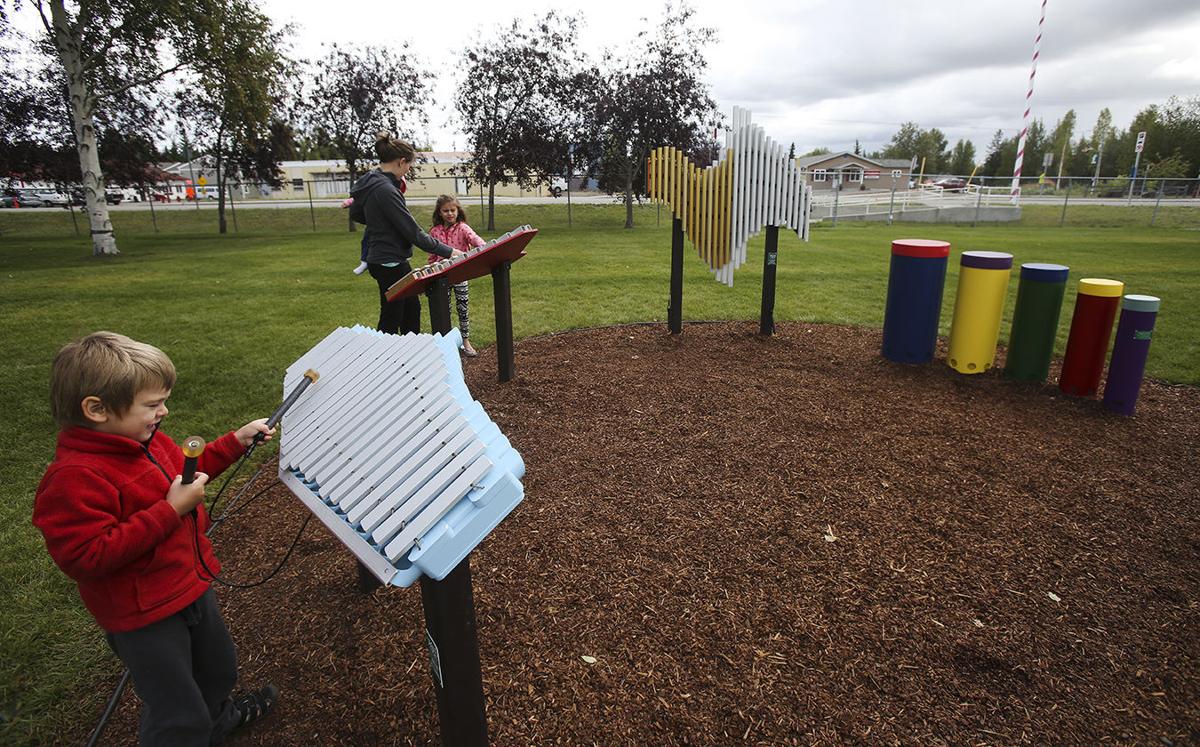 A unique new play area, combining music-making and outdoor play, has been installed at the Terry Miller Park this summer.  Several other communities in Alaska have musical parks, including Seward, Wasilla, Palmer and Juneau.
Jeff Healey Park
Jeff Healey Park in Toronto, Ontario Canada is named to commemorate jazz and blues great Jeff Healey, the legendary blind Guitarist.
Chloe's Sunshine Playground
For the last six years, a local mother has been raising funds and working with the city of Syracuse, Utah to get an accessible park so children with disabilities, like her daughter, will have somewhere to play, and Saturday marked that playground's grand opening. Read More
Lohas Park Hong Kong
"HEMERA" Lohas Park Phase III is a new developing residential area, in Hong Kong.  The project is a joint effort with the largest developer in Hong Kong, along with the owner of the Mass Transit Railway(MTR).
Crossing Abilities All Inclusive Playground
A safe and accessible outdoor playground that fosters imaginative play and developmental learning. This will enhance the quality of life of children with disabilities through fitness and socialization. At this playground, differences disappear and children share experiences with their peers while exploring equipment and learning at their own level.
Buffalo, Minn. Music Trail
It winds along the lake in Buffalo, taking people from one musical instrument to another. It's a place to stop and take in the sights and sounds along a brand new music trail.
Heinzerling Foundation's Outdoor Sensory Garden

Music and fountains help Heinzerling Foundation's residents, enjoy the new sensory garden.
Roanoke Virginia Accessible Park at Countryside
Roanoke's Newest Park at Countryside, is a fully accessible playground, running trail and musical trail adds a multi-sensory experience with Freenotes outdoor musical instruments.
Trail Head 

Children's

 Museum: Crested Butte, Colorado.  The hills are alive with the sound of music, thanks to a brand new public installation by the Trailhead Children's Museum.
On Wednesday, December 5th, 2012 The Trailhead Children's Museum, unveiled their newest exhibit, the outdoor Musical Instrument Garden. Located outside the current Trailhead facility in the base area of Mt. Crested Butte, the Garden includes five permanent outdoor musical instruments made by the company Free Notes Harmony Parks, with a weather station, weaving station and outdoor garden underway. The Board of Directors has graciously made the exhibit open to the public with a suggested donation for those not entering the Museum.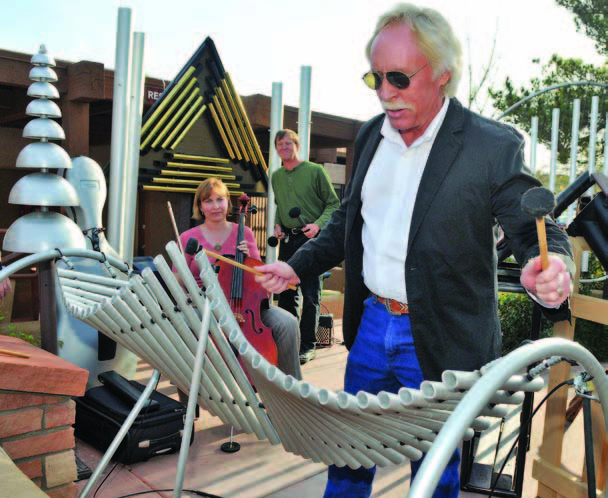 "Music Lives Here" is an inscription chiseled into the sandstone rock next to a brand new grouping of Harmony Park instruments. A bold installation by the city of Sedona, Ariz., these outdoor instruments is permanently placed on Main Street at the Chamber of Commerce Visitors Center to boost its public art initiative.
Maple Grove Rotary Club Builds a Community Music Park at Town Green

Sounds of spontaneous creativity can be heard in the new Maple Grove Rotary Music Park. Nestled in at Town Green near the library and outdoor amphitheater, this new music park provides a place to meander, relax and create music. The music park includes six specially made, weather resistant instruments laid out to create complimentary tones. These permanent instruments are accessible to would-be musicians of any age and require no special skill to play. There are no sour notes, only the sweet sounds of families and friends, young and old, a community making music together. The idea to build a musical park came out of the Maple Grove Rotary Club's 2009 five-year visioning plan.

Millstone Creek
Millstone Creek: Columbus, Ohio. "The first time I heard Freenotes instruments being played, I was blown away by their sound quality.  They are beautiful instruments that make beautiful sounds.  And the best part is they have been designed to withstand the heavy use and weather conditions of being outdoors.  They have even figured out how to ensure that no one walks away with the mallets," says Mara Kaplan of Accessible Playgrounds. "I am very impressed with Freenotes' commitment to ensuring that people with disabilities have an opportunity to experience the thrill of making music, but also the respectful and well-researched way they discuss different disabilities."


Florida Botanical Gardens
Instruments were placed on loan at the Botanical Gardens in Key West, Florida for a sculpture exhibition. The Garden's Education Department learned the instruments were about to be removed so they had an emergency fundraising effort to make the installations permanent. After a week of public donations and funds from the Education Department, the instruments now call Key West home.


Discovery Playground
Discovery Playground: Auburn's Les Gove Park in Auburn, Washington.
Often, children with disabilities are left to sit and watch their able-bodied friends and siblings play. Instead, imagine all children playing side-by-side in a fully accessible and sensory-rich playground environment. That is the vision for Auburn's barrier-free playground. Barrier-free playgrounds delight children of all abilities while providing a place where compassion and acceptance flourish. The sensory garden is an integrated system of spaces devoted to the five senses: see, hear, touch, taste, and smell.

Jackson Park: Minneapolis City of Lakes Rotary Club of Minnesota earned a Rotary International Significant Achievement Award for their installation of Freenotes.
Holton-Arms School Bethesda, Maryland
A total of 12 instruments is in an elliptical arrangement ranging five octaves from contrabass
to soprano in both pentatonic and diatonic scales.

Adventure Island, Eagle, Idaho
Imagine a playground where children search for hidden artifacts in an archaeological dig, conduct a symphony, or launch to the moon in a spaceship.  Now imagine that all children can experience that kind of fun no matter what their ability level. Also imagine that children in wheelchairs or those with sensory, visual or cognitive disabilities can play side-by-side with their able-bodied peers.That's Adventure Island, a universally accessible playground in Settler's Park, Meridian Idaho.
The Salvation Army Ray and Joan Kroc Corps Community Center of Boston, MA. Will change the lives of Boston's inner-city families for generations to come. At the Kroc Center children will play. Learners will discover. Families will come together. The Kroc Center will bring hope and new life to a community in need and a vision for the next generations.
Liberty Park, Salt Lake City, Utah

Located in the heart of downtown Salt Lake City, this seven instrument installation is part of a wheelchair accessible Rotary Playpark that was dedicated at an opening ceremony during the 2002 Winter Olympics and used as a torch stop for the Para-Olympic procession.
The original Harmony Park™ musical playground was developed and installed in Moab, Utah's Rotary Park, in 1995. New instruments have been added to this playground in several phases and have consistently delivered musical fun and recreation to the Moab community and its visitors from around the world for many years.
Harbin China Sculpture Park
Share This